Does your existing driveway detract from the overall beauty of your home? Is the asphalt tired, in need of repair and upgrading? Is it hard to maintain?
Consider installing a Cranbrook Stone Surface "Chip Seal" drive. Once reserved only for state and municipal use, the time-tested technology of Stone Surface Chip Seal can now be applied to your drive or private road. The result is an attractive, custom stone surface that is as hard-wearing as it is beautiful.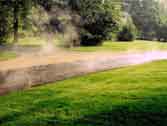 The Stone Surface Chip Seal will integrate well with your landscaping and natural surroundings. And you can customize the appearance by selecting gravel in various sizes and colors, including certain exotic gravels available in this area only through Cranbrook Pavement.
A Stone Surface drive from Cranbrook Pavement can be applied in as little as a day, leaving your driveway with an estate-quality appearance and adding value to your home. Compared to other surface options like brick pavers, decorative concrete and other pavement materials, our Stone Surface Chip Seal is superior. And it can be applied to your existing asphalt, eliminating the need for a messy, time-consuming excavation project.

It's Beautiful.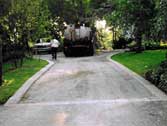 Because it features real stone, it provides a natural, upscale appearance that is second-to-none. When you turn into your driveway, you will experience a tremendous feeling of satisfaction. Our Stone Surface Chip Seal will help transform your home into an "estate."
It's practical.
Unlike brick pavers or loose gravel beds, it is compatible with snow removal services, installs over the existing driveway and will not alter the surface's height and slope.
It's hassle-free.
The durable material requires no annual sealing treatment and will last for many years, remaining more flexible than asphalt and concrete surfaces, lessening the likelihood of cracking.
It's surprisingly affordable.
Even though it is as attractive as other driveway surface options and certainly more desirable, the overall cost is less than brick pavers, stamped concrete and even asphalt replacement.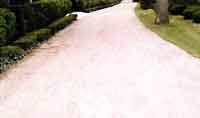 A driveway with Stone Surface Chip Seal complements the architectural beauty of your home. It is a clear expression of the pride you take in your residence and your investment in it. It is aesthetically pleasing, long lasting and practical, enhancing the setting with a warm, welcoming appearance.