As asphalt pavement ages, it will shows signs of wear and deterioration. If left unchecked, this can lead to safety hazards and costly repairs. Type II Slurry Seal is an effective method for extending the life of your pavement and restoring surface quality.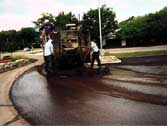 Slurry Treatment is best used as part of an overall preventive maintenance program. It consists of high quality aggregates, asphalt emulsions, water, and mineral filters. A slurry application offers distinct advantages in pavement sealing, resurfacing, and rut-filling, and can be used to address a wide variety of pavement needs.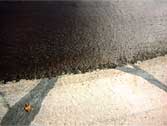 Slurry Seal is used throughout the United States and world as a high performing surfacing method that can extend pavement life at lower costs. In fact, here in Michigan, the process was even used on the Mackinaw Bridge.
Slurry Seal offers superior durability and wear, and keeps surfaces smooth, safe, and maintenance-free.